MAGYAR NYELVŰ BEJEGYZÉS ITT
A few weeks ago, Sammydress contacted me and asked me to try their online store. If you have never heard about them: Sammydress is a global online fashion retail company (like Sheinside, Romwe), which sell the latest fashion clothing, shoes, bags, accessories and many more. They have an incredibly low factory prices, probably the lowest as possible on this market. They ship worldwide, which usually takes 1-3 weeks and they have a 24 hours live chat service.

I already knew the company, because I saw some pictures by bloggers wearing sammydress clothes on the Instagram and facebook , so I said yes for the collaboration. When I started to search on the Sammydress web page, I focused to order a very trendy items which are must haves and can't miss from my seasonal capsule wardrobe. I chose 2 dresses and 2 bags and started to search pictures about the product on the Instagram. When I saw they look great on real peoples I finalized my order and started to wait for my items. I was exited to see how they really look like in the real life, because I ordered many times from E-bay and got a different product as on the picture.
Let's see how my ordered products look like:
I. Outfit: Off the shoulder dress and red shoulder bag
I always wanted to buy an off the shoulder dress from the Zara or Bershka, but my size was always sold out or the price was too high for me. Understandable, because this dress is a summer must have as I write here earlier! I was so happy when I saw it on the web page, I ordered size S and fits perfect for me (wearing XS-S). It has a great material, feels natural and soft and the dress does not slip off me it's totally comfy to wear. Can you imagine that this off the shoulder dress cost 13 Eur? Click here to see your own eyes! This price is unbeatable and why should you earn more money for something what you wear in only one summer.
I matched my dress with a red shoulder bag, which looks like a Furla metropolis mini bag. It's very small, but big enough to put inside my wallet, my phone and a little snack. It may looks like a bit pink on the picture, but it's red, a beautiful wine red. It has a pretty chain strap and you can open it exactly like the Furla bags. I'm going to wear this bag all year when I'm going out with friends or just walking a bit in the city center. The bag costs  under 8 Eur, click here to check it out.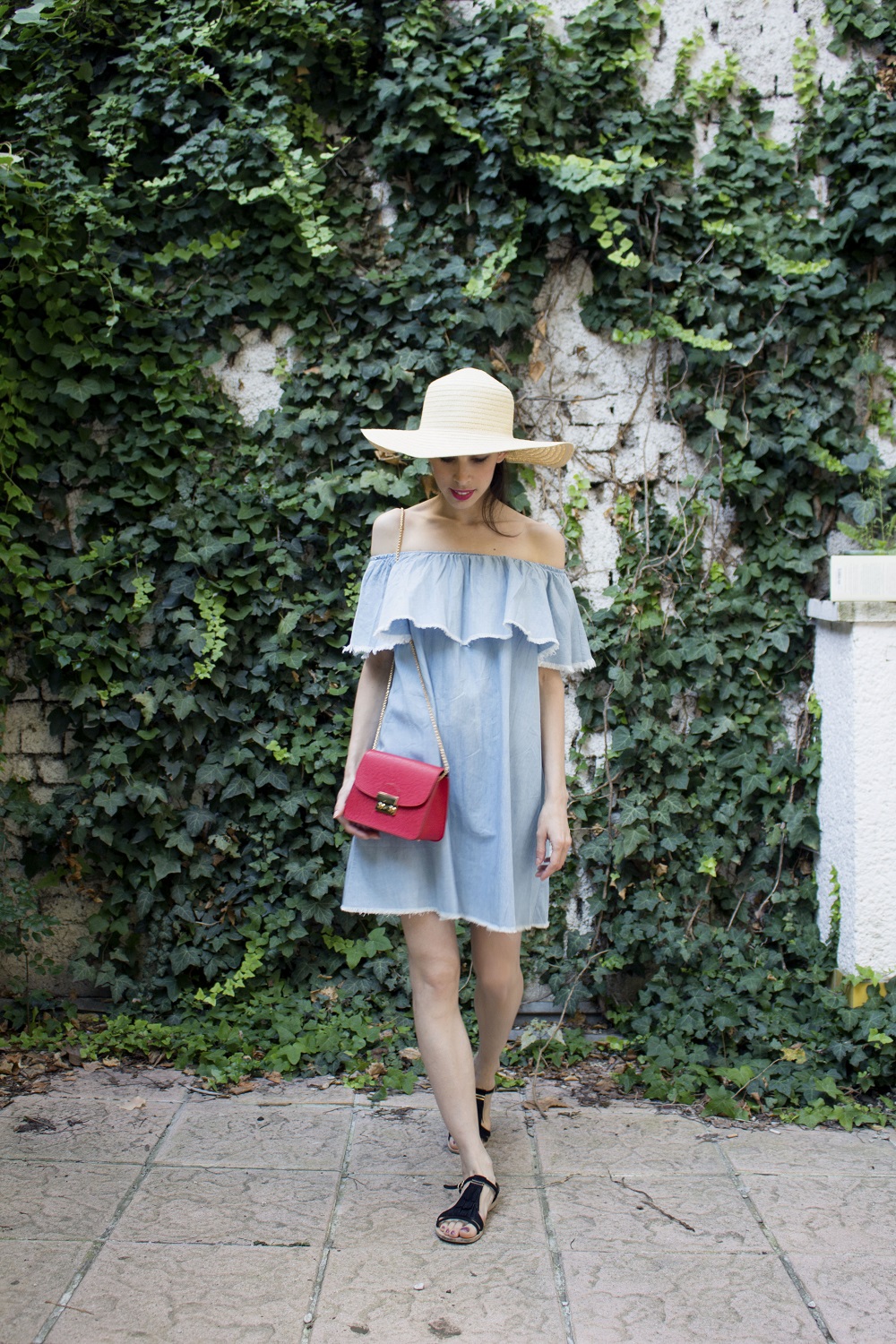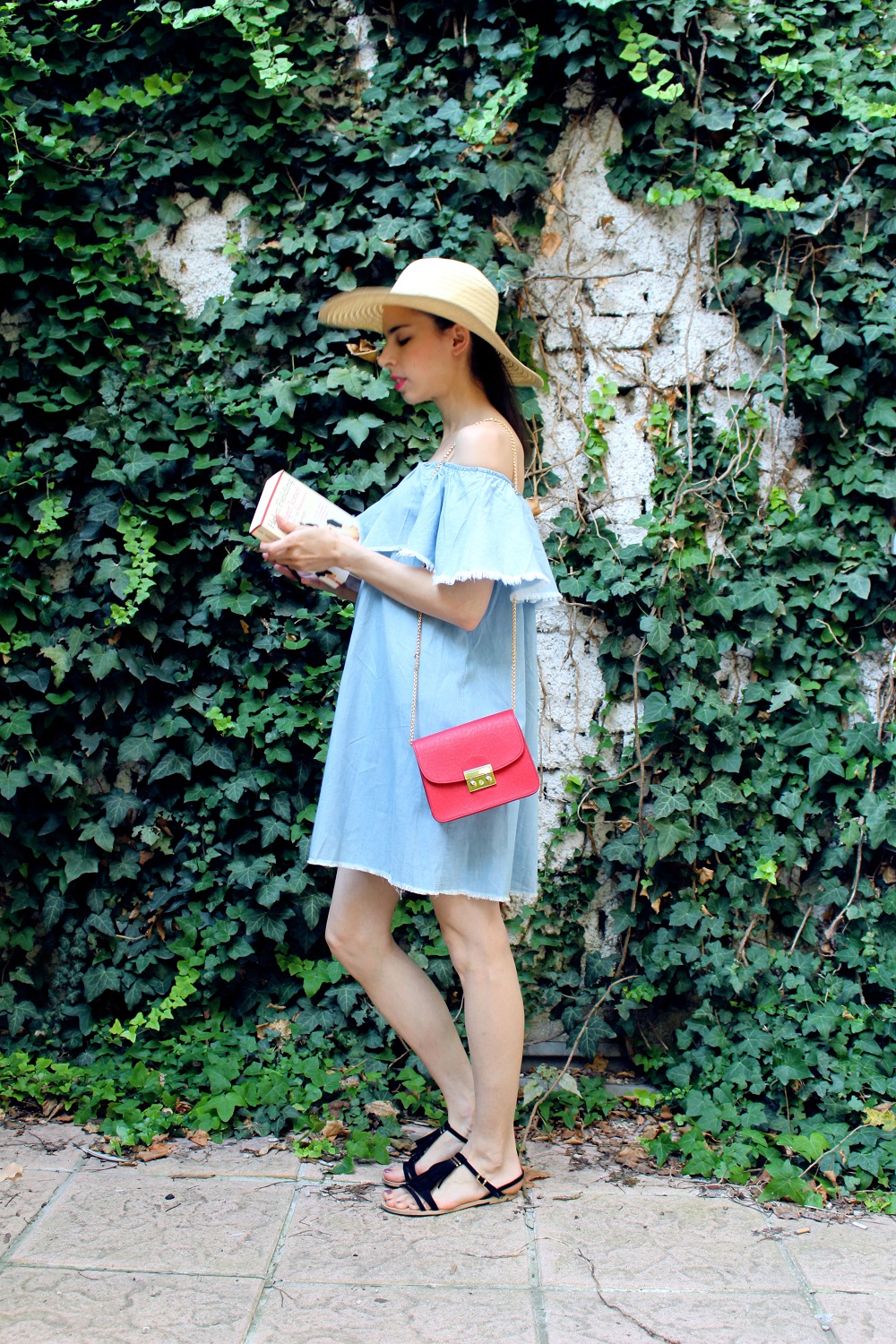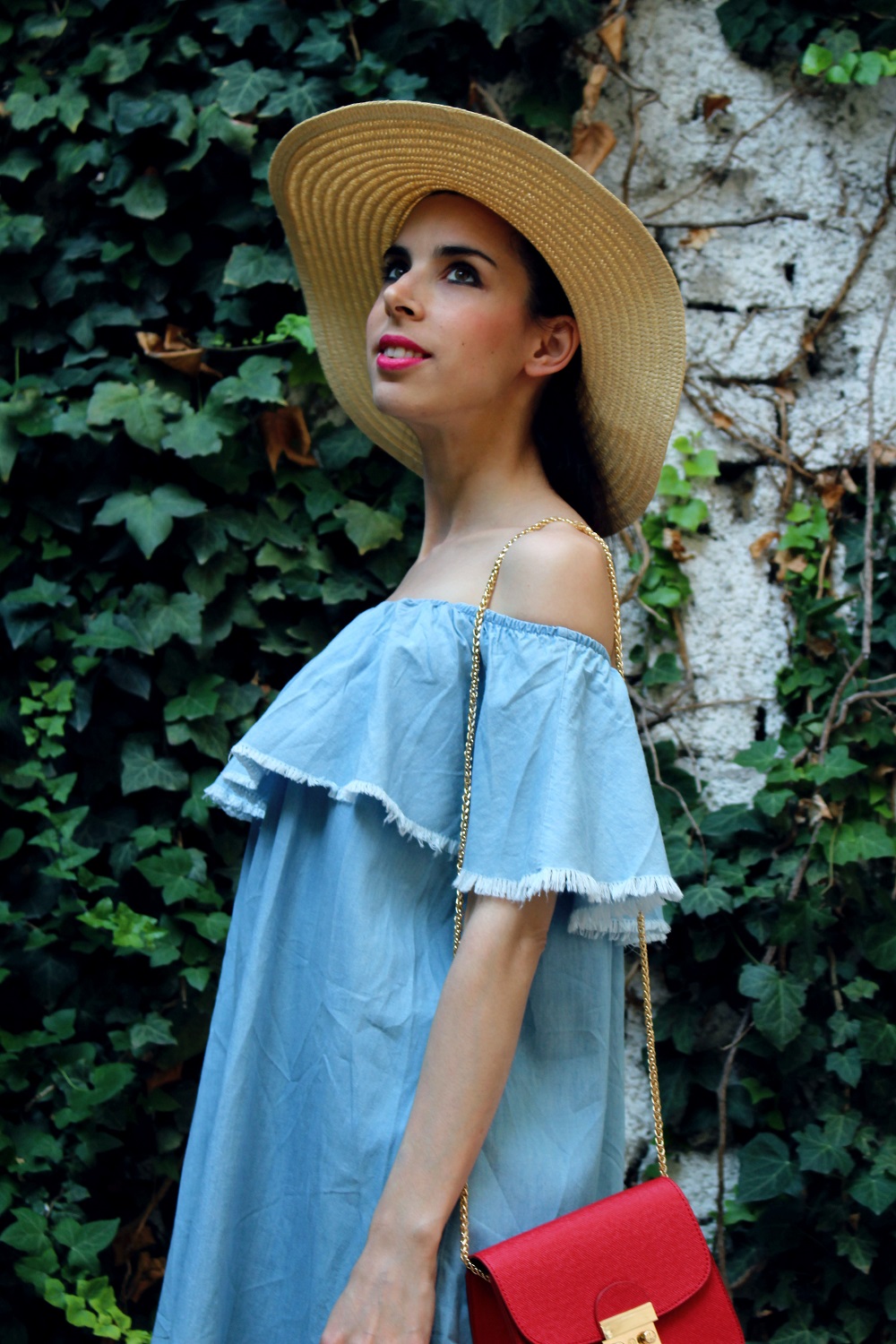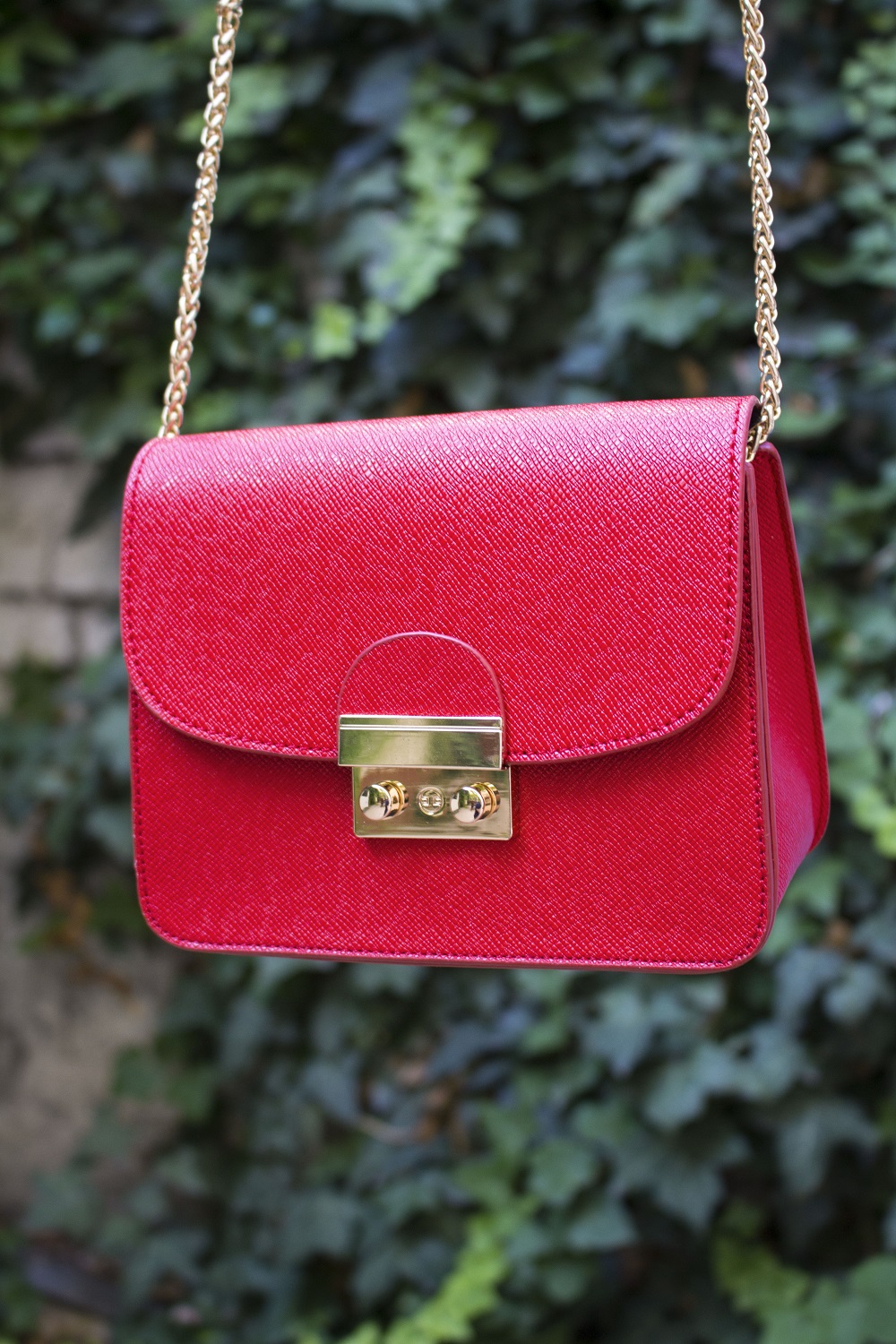 Shop the look:
II. Outfit: Striped flounce dress and black crossbody bag
First of all, I'm going to write about the black crossbody bag, because it's so iconic! It looks like the Chloe Faye bag, I saw it many times by bloggers and this bag is a legend now days. I was afraid that the chain will be yellow gold, but I pleasantly surprised, it has a nice gold color. Inside there are 3 separate place to pack your things, I tried to put inside a half a little bottle and it's worked! 🙂 This product is worth the price, it's around 15 Eur, check it out here!
My second dress was a striped flounce dress with spaghetti strap. I ordered size S and fits great. The straps are adjustable, so I can comfortable control it. There is inside a polyester lining what I don't like, so I'm gonna take it out and use my under-dress. The upper material and the pattern doesn't look cheap, it's exactly like a dress from the Zara which costs 40 Eur, but this one is only 11 Eur, you can find it here. The dress is a perfect easy going summer dress, I matched with my black high heels, but I'm gonna style it with a loose flat version too with leather jacket.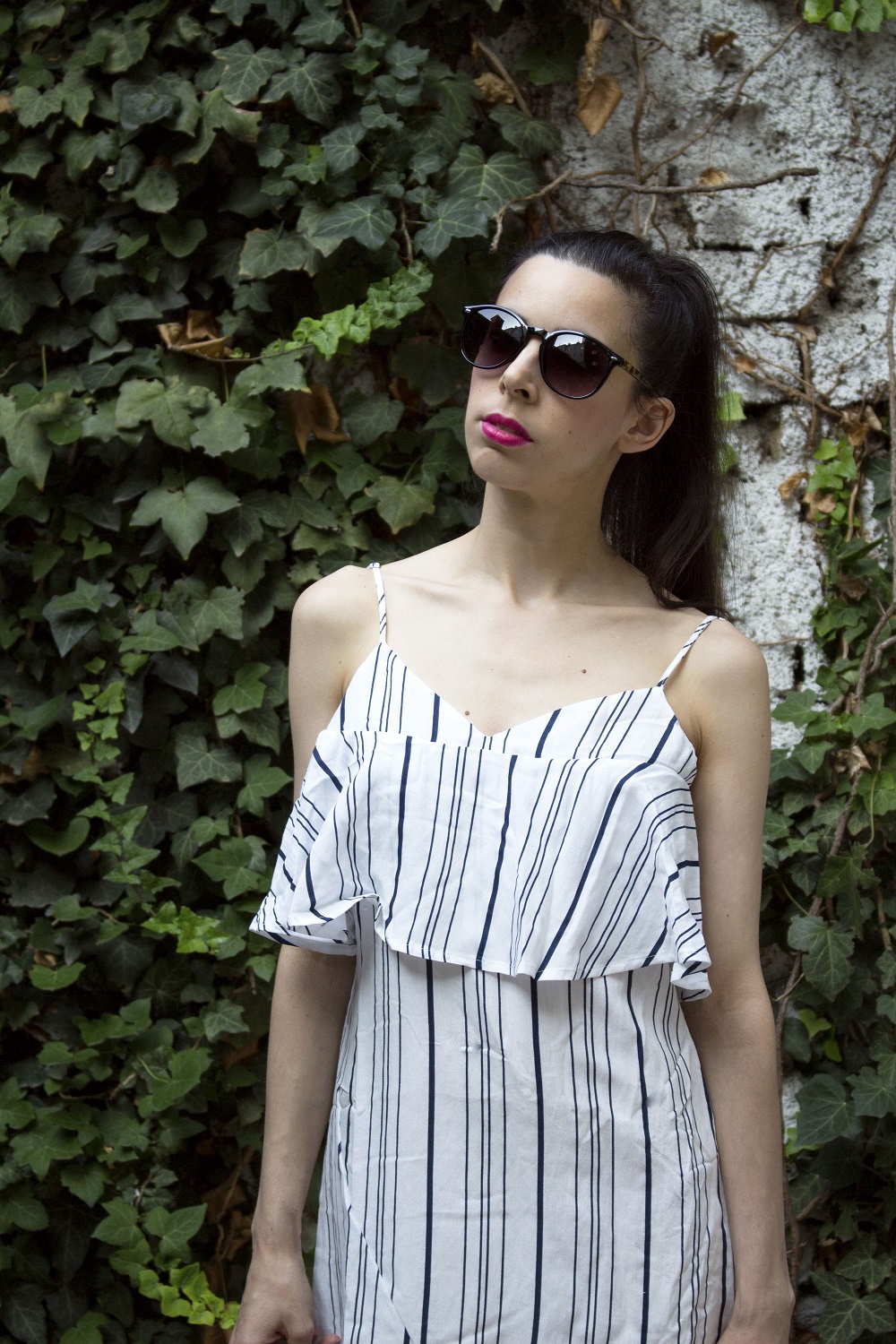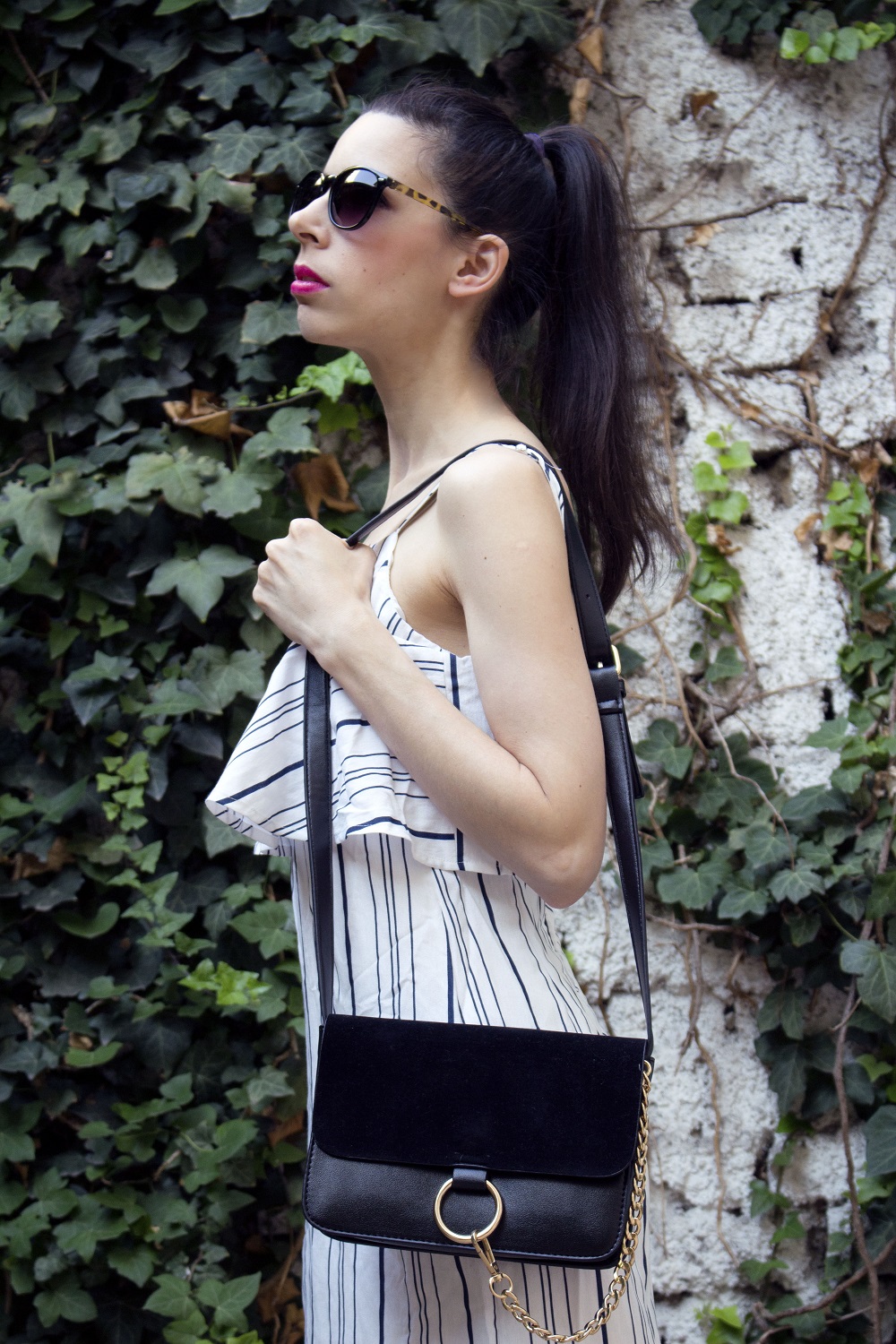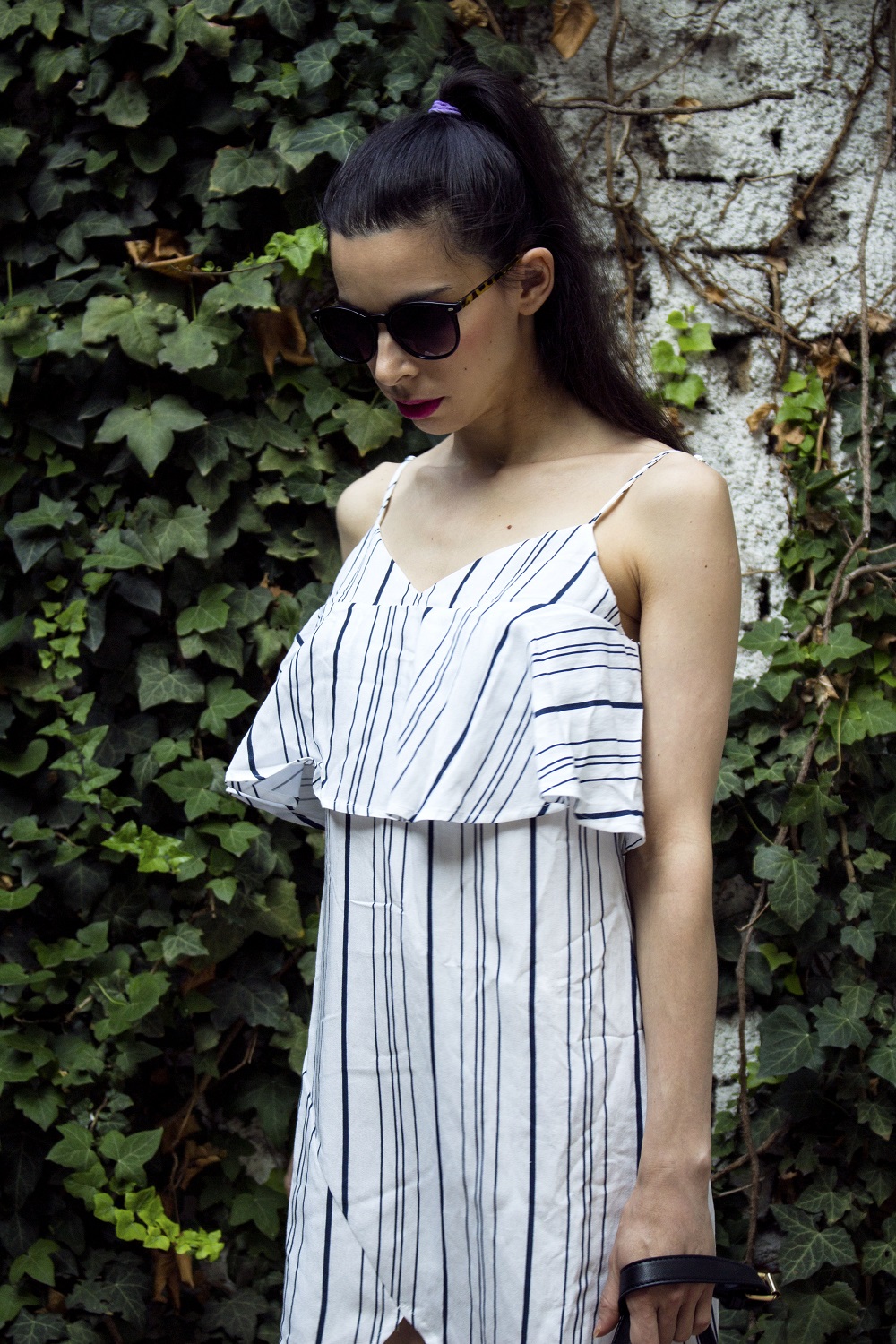 Shop the look:
Summary, pro and contras:
Overall, I'm satisfied with my orders, I got exactly what I expected. Because the products are very cheap, they are not comparable with designer clothes or bags, but with Forever 21 or Primark yes. My only negative experience was with the blue dress, it had some longer thread sticking what I had to cut down. I think it's not a big deal for this price so I didn't care to much because of this. The shipping time was 3 weeks and the exactly one day before my order arrived I wrote for the costumer service to get know where is my packet and the answered asap, so I'm very satisfied with the costumer service. If any product would not have been good, I have the right to send back to China, but more profitable when I resell them online for friends or stranger.
NEGATIVES –
– You can't see the product in real life before you buy  – you may surprised when it arrived
– You have to wait a few weeks to get your items
– Exchange is more complicated than a shop in your nearby
POSITIVS +
+ Very cheap, you can buy more clothes in less money
+ You will find the most fashionable and  trendy items in the webshop
+ Comfy shopping you don't need to leave your home – you save time
+ Costumer service is great, they will help you if you need
+ Safe payment, you can use Paypall
Important links:
Facebook page: fashion tips, promotions, free samples
Sammydress lookbook by costumers 
If you like my posts, don't forget to follow me on BLOGLOVIN!
 INSTAGRAM – FACEBOOK – TWITTER – PINTEREST
BYE